Suite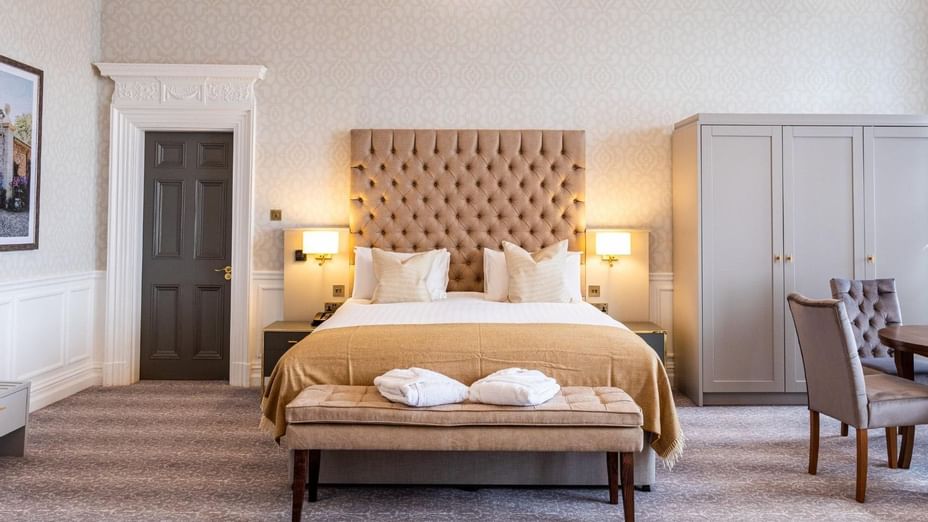 Our Windsor Suite is the ultimate in comfort, style and old-world charm, and is perfect for newlyweds, celebrities, VIP's and anyone who really wants to experience the best of what Easthampstead Park hotel has to offer. Included in this huge room are a separate seating space with sofas and coffee table, the best views in the house overlooking our rear garden and fountain, plus the rich fabrics, fixtures and fittings you'd expect from Superior Accommodation. This is special!
With our Junior Suite we offer the same as the WIndsor Suite in terms of ammenities although the room itself is slightly smaller.
As with every room we offer on the property, you'll stay connected with free Wi-Fi, take your pick of the many free view channels on the smart TV, be able to complete business tasks on the rooms desk, secure your valuables in the room safe, have a workout in our fully equipped purpose-built gymnasium, and help yourself to complimentary tea and coffee. Extra special touches include Nespresso Machines and Clarins toiletry products.
The express purpose of your hotel room here at Easthampstead Park is to make relaxing and sleeping as comfortable and as pleasant as possible and we're thrilled to have you as our guest.