Why Do Brides Wear White?
Exploring the History & Symbolism of White Wedding Dresses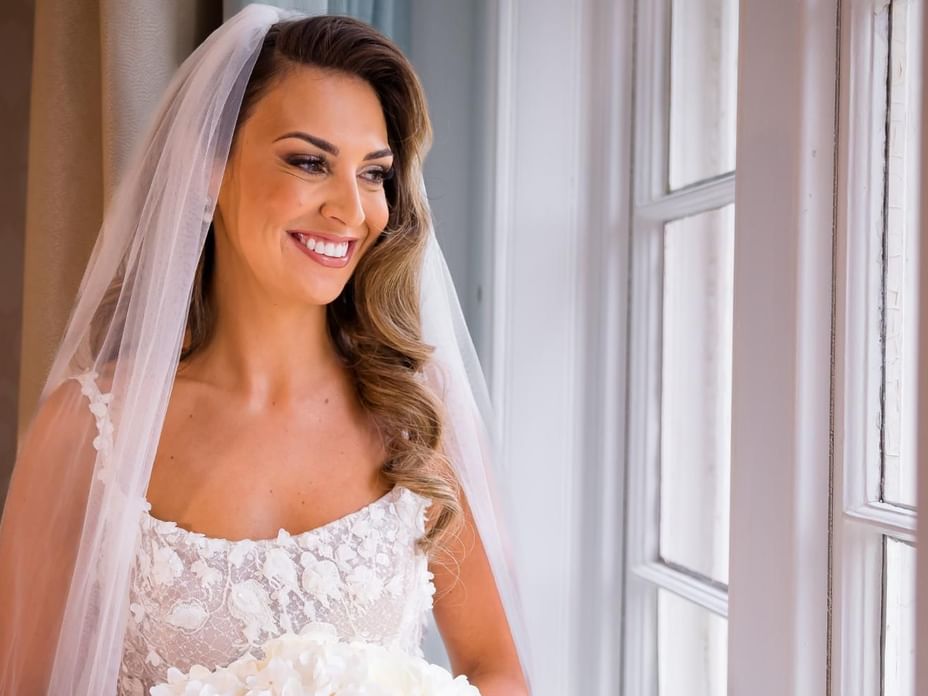 When it comes to weddings it's common to see brides dressed in white.

However, this is not a universal practice. Brides in various cultures such as India opt for different colours like saffron red which holds special significance.

If you're on the search for your perfect wedding dress understanding the origins behind this popular but not obligatory tradition can be beneficial.

So why do brides wear white? Keep reading to discover the full story.
The History of the White Wedding Dress
Queen Victoria who was known for setting fashion trends had a significant impact on wedding attire during her time.

She introduced two influential styles: deep black for mourning and white wedding dresses.

White dresses on the other hand were reserved for women presented at court.

However, Queen Victoria wanted to make a statement on her wedding day to Prince Albert on February 10, 1840.

Being a fashion enthusiast, she opted for a non-traditional dress and a flower crown.

Prior to her reign royal brides wore dresses in various colours with red being a popular choice.

White dresses on the other hand were reserved for women presented at court.
QUEEN VICTORIA'S INFLUENCE
Queen Victoria wanted to make a statement on her wedding day.

Being a fashion enthusiast, she opted for a non-traditional dress and a flower crown.

The dress Queen Victoria wore was made from Spitalfields cream silk-satin and featured Honiton lace flounces on the neck and sleeves.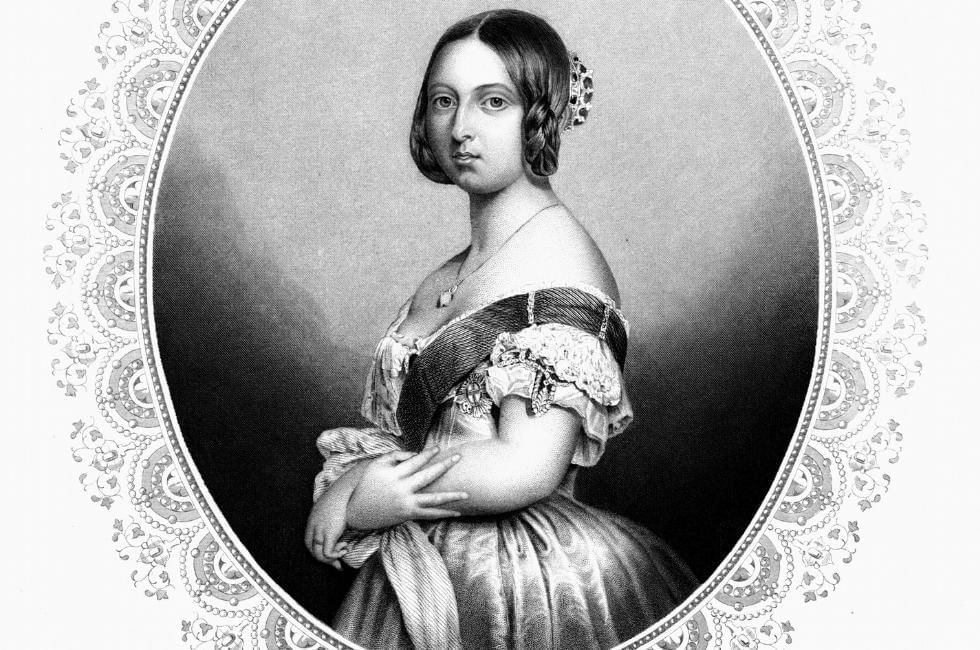 THE WHITE WEDDING DRESS REVOLUTION
As news of Victoria's wedding spread other European leaders followed her fashion choice leading to a rise in luxurious white wedding dresses.

However, maintaining white dresses was challenging in the 19th century due to the difficulty of laundering clothes.

Despite this wedding gowns were worn multiple times throughout a person's life including by Queen Victoria for other events.

The popularity of white dresses for weddings grew and the colour took on new symbolism representing purity, innocence and wealth.

White dresses also photographed well in early black-and-white or sepia-toned photography.
MAKING THE WHITE WEDDING DRESS AFFORDABLE
It took a few more decades for white wedding dresses to become accessible to middle-class individuals in Europe and the United States.

Prior to this many women simply wore their best dress on their wedding day.

As society became more prosperous after World War II, clothing production became more affordable and the white wedding dress became a distinct tradition associated with lavish wedding celebrations.

Queen Victoria's influence on fashion introduced the concept of white wedding dresses.

Her unconventional choice paved the way for the symbolism of purity and innocence associated with the colour white.

Over time, white wedding dresses became more accessible ultimately becoming a cherished tradition for many couples celebrating their special day.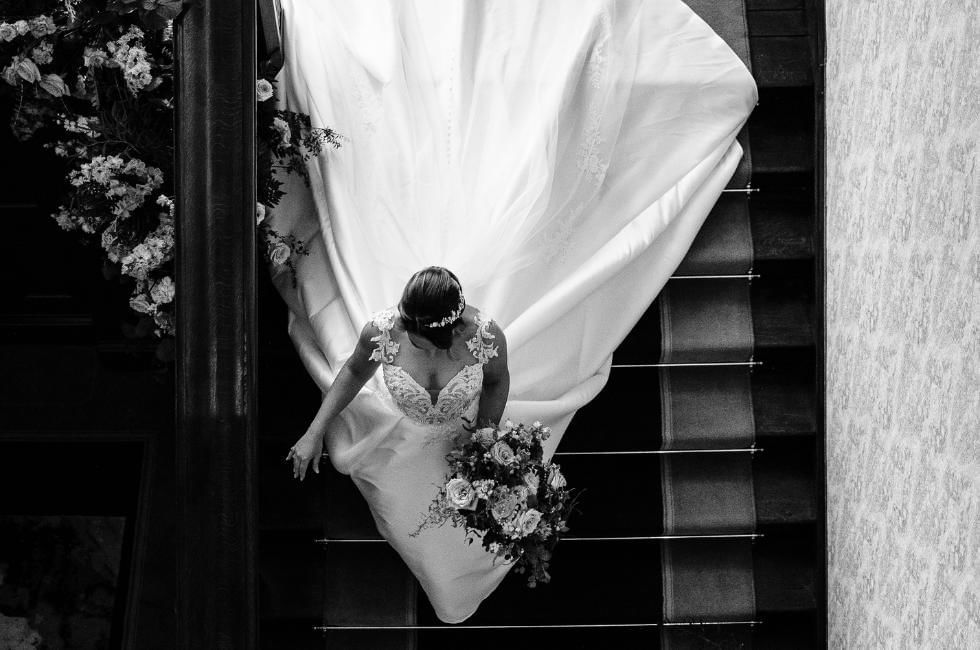 Luxury Weddings at Easthampstead Park
At Easthampstead Park we understand the importance of creating a wedding experience that is tailored to the couple's vision and desires.

Our beautiful wedding venue nestled in the heart of Berkshire offers a range of stunning event spaces to suit any style or theme.

We believe that every celebration should reflect the couple's individuality and be a true reflection of their love story.

Our dedicated weddings team at Easthampstead Park is committed to ensuring that every detail of your special day is executed flawlessly.

From the initial planning stages to the final moments of your reception we work closely with you to understand your vision and deliver it on the day.

Whether you choose to walk down the aisle in a white wedding dress or opt for a different colour that represents your style and personality, we are here to make your wedding dreams come true.
Thank you for exploring the reasons behind the tradition of brides wearing white.

If you would like to read more on other popular wedding traditions check out our sister property's article on Why Brides Throw Their Bouquets.
FAQS: Why do Brides Wear White?
Q: Is it mandatory for a bride to wear white?
A: While many brides embrace the tradition of wearing a stunning white or ivory gown on their wedding day it's important to remember that it's not mandatory. An increasing number of brides are breaking away from traditional norms and selecting their wedding dress based solely on their personal preference for the colour. Ultimately, the decision is entirely up to the bride.

Q: When did brides start wearing white in UK?
A: In 1840 Queen Victoria's marriage to Albert of Saxe-Coburg and Gotha had a significant impact on wedding fashion. Victoria wore a white gown which was widely depicted in illustrations and publications. This momentous occasion led to a surge in popularity for white wedding dresses, as many brides were inspired to follow the Queen's choice and opt for white on their special day.

Q: Why can't anyone but the bride wear white?
A: When attending a wedding as a guest it's generally considered inappropriate to wear white. The key rule to remember is to avoid upstaging or upsetting the bride on her special day. To ensure this it's best to steer clear of outfits that are primarily white, cream, or ivory in colour. Weddings hold a significant meaning for the couple exchanging vows and the bride's attire is often the centrepiece of the event. By refraining from wearing white guests show respect for the bride and allow her to stand out in her chosen colour.

Q: What colour did brides wear before white?
A: Prior to Queen Victoria's wedding in 1840 brides typically didn't wear white for their ceremonies. Instead, it was common to see brides in a range of colours such as red, pink, blue, brown, and even black as they exchanged their vows.