Berkshire's Premier Weddings, Meetings & Events Venue
The King Suite At Easthampstead Park
The King Suite
Perfect for Your Special Occasion
The King Suite is a beautiful large events venue located in the stunning grounds of Easthampstead Park, nestled between Wokingham and Bracknell.

Set amidst 80 acres of breath-taking Berkshire countryside this enchanting space is an absolute gem, providing an idyllic setting for weddings, meetings, and events.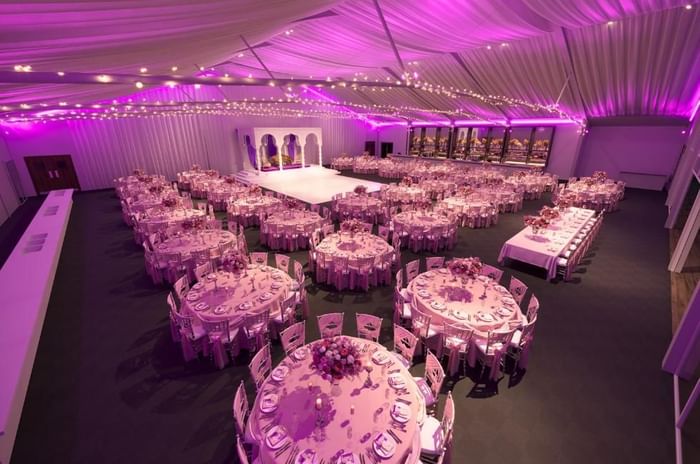 Weddings
The King Suite is the perfect choice for couples seeking a large beautiful wedding venue in Berkshire. Nestled within stunning countryside it offers a picturesque backdrop for your special day.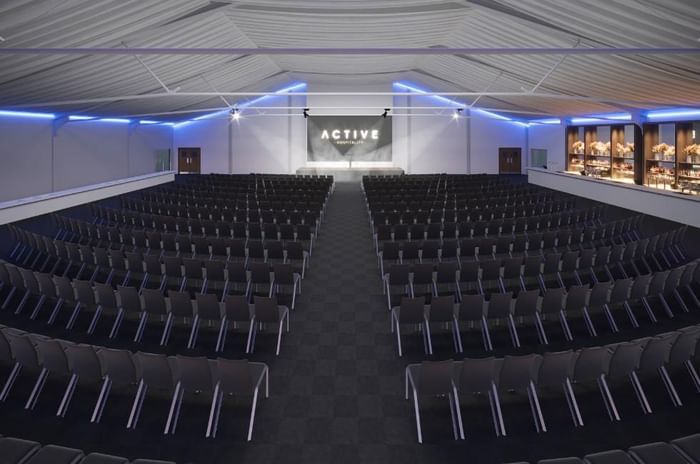 Meetings
Ideal for a variety of conferences, meetings, training workshops and team away days The King Suite offers a modern meeting space complete with state-of-the-art technology.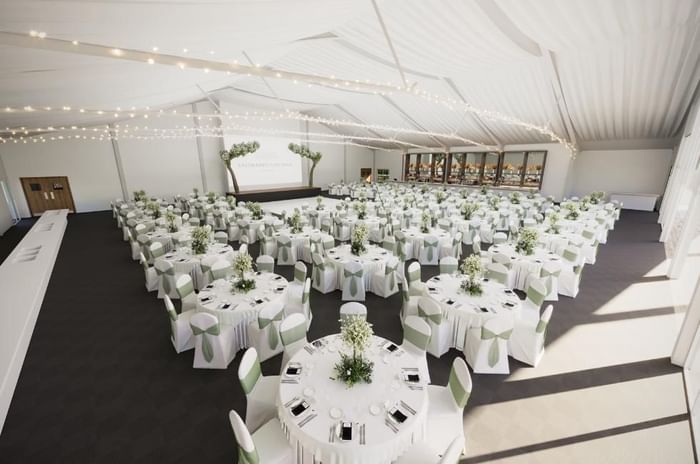 Events
No matter what kind of event you're planning whether it's a milestone birthday celebration, a prom night to remember, or a joyous private dinner, our grand King Suite is the ideal venue.
Venue Hire Wokingham | The King Suite Construction Time-Lapse
Check out the progress!
Key Features
Large Events Space: The King Suite boasts ample space to comfortably accommodate gatherings of up to 480 people.

Private Bar Area: Enjoy the convenience of a dedicated private bar area within the King Suite allowing your guests to savour their favourite beverages.

Video Wall: With its large screen our state-of-the-art video wall is designed to showcase a wide range of captivating content that will leave your guests in awe.

Twinkling Ceiling Lights: Create a magical atmosphere with the twinkling lights adorning the ceiling of the King Suite adding a touch of charm to your occasion.

Dancefloor: Get ready to dance the night away on our stunning twinkling dance floor which is sure to add a touch of magic to your special event

Private Garden Area: Take advantage of the garden area offering a tranquil outdoor space where guests can socialise and soak in the beautiful surroundings.

Cloakroom Facilities: We provide convenient cloakroom facilities allowing your guests to securely store their belongings during the event.

Toilets: Our venue is equipped with well-maintained toilet facilities including accessible ensuring the convenience of your guests throughout the event.

Kitchen: The King Suite features a fully functional kitchen enabling caterers to prepare and serve delicious meals and refreshments.

WIFI: Stay connected throughout your entire event with the reliable and high-speed WIFI network designed to meet your connectivity needs

Free On-Site Parking: We offer the convenience of free on-site parking ensuring easy accessibility for all attendees.

On-site Accommodation: We provide the option to book on-site accommodation in conjunction with your event subject to our hotels availability.
WHY HAVE YOUR Event AT The King Suite?
When it comes to hosting your event, The King Suite offers the perfect venue between Wokingham and Bracknell that ticks all the boxes.

With its maximum capacity of 480 guests it's an ideal choice for celebrations and gatherings with over 150 attendees.

The King Suite is equipped with state-of-the-art features ensuring that your event will be enhanced with modern technology and seamless functionality.

Beyond the impressive facilities this venue also provides a tranquil event space nestled in the serene surroundings of the gorgeous Berkshire countryside.

Whether you're planning a wedding, a corporate event, or a special occasion, the King Suite offers a combination of spaciousness and sophistication to make your occasion truly unforgettable.
AMAZING CHRISTMAS PARTY NIGHTS
Come and join us at Easthampstead Park for our exciting "Fire & Ice" even which will take place in either our brand-new King Suite or in the main mansion house.

Step into a magical world of festive wonder as our venue undergoes a breathtaking transformation into a festive winter wonderland.

Get ready for a night filled with thrilling surprises, dazzling entertainment, and unforgettable moments.

With our experience in hosting incredible Christmas parties in Berkshire year after year, we know exactly how to deliver an event that will leave a lasting impression and be talked about for years to come.
FREQUENTLY ASKED QUESTIONS