Swinley Forest | A Bracknell Forest Activity Guide
Walks, Bike Trails, Golf & much more!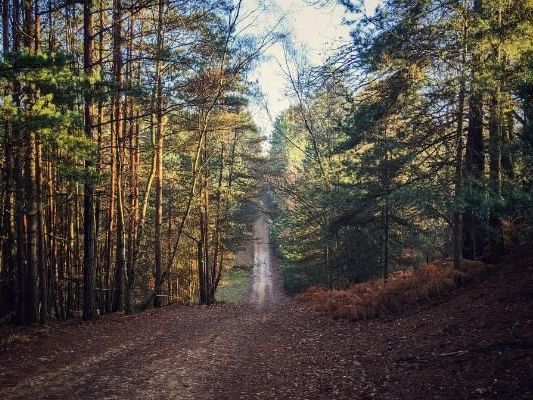 When visiting Berkshre - perhaps on a Stacation - why not make a rugged return to nature in Swinley Forest situated here between Bracknell & Camberley.
A wild and wonderful day is on offer here in Swinley for hikers, picnic-ers, and nature lovers of any and all ages. With a huge variety of walks, cycle paths, and things to do, Swinley Forest has been transformed from a beautiful yet untamed forest, into incredibly well maintained woodlans that privides for amaziong days out for families, nature lovers and outdoor enthusiasts.
Visitors to Swinley Forest end up returning time and time again to see every corner of the gorgeous woodland.
If you've never been lucky enough to visit Swiney Forest and are in the area, then this blog will provide all you need to know in order to have a great day out here in Bracknell Forest.
History Of Swinley Forest
Settlements have been proven here at Swinley Forest since the Iron Age right through to the Roman occupation of Britain.
The actual recorded history of Swinley Forest however began as part of the Forest of Windsor in the 11th century. A royal hunting ground for the monarchy and was utlised at Swinley for hundreds of years. During Napolionic times the forest was recorded as being a training ground for troops and indeed, there are many earthworks throughout the forest still remaining in place from thise military manoeuvres.
During the reign of Queen Anne the forest was favoured by the monarch and her husband and was the location of their kennels where they housed their hunting stag hounds.
Over the centuries, various tree species were planted in Swinley including oak, birch, pine and beech. Today the forest covers over 2,500 acres and is managed by the Crown Estate, an independent commercial business that manages land owned by the British monarchy.
Since the 16th century, locals have been allowed to gather fallen wood and graze animals in designated areas of the forest.
In more recent times, parts of Swinley Forest were felled and replanted as production forestry focused on fast-growing conifers.
However, efforts in the late 20th century shifted toward preserving Swinley's natural woodland habitat and restoring native broadleaf trees. The forest is now a popular destination for walkers, cyclists and horse riders who enjoy the extensive trail network that winds through the woodland.
Swinley Forest remains an important natural resource and historic wooded landscape in the county of Berkshire.
Where is Swinley Forest?
Swinley Forest is located between boundaries bordered by Bracknell and Crowthorne in the north and Camberley and Bagshot in the south,
The full address is Swinley Forest, Bracknell, RG12 7QW. This specific address however, is where the Lookout Discovery Centre is located at the Bracknell end of the forest. This is the main information centre for the forest.
There is a car park here at the Look Out Visitor's Centre, details about which can be found on their website here.
Alternatively, the Stagecoach South number 171, 172, and 194 buses regularly make stops along the walking trails in Swinley Forest, with the closest bus stops on Knightswood from the north, and Bagshot Square, and Berkshire Road from the south.
The nearest train stations are Martins Heron, and Camberley, although you may have to take a long walk from the stations to Swinley Forest if you are planning on getting your bearings at the Look Out Visitor's Centre.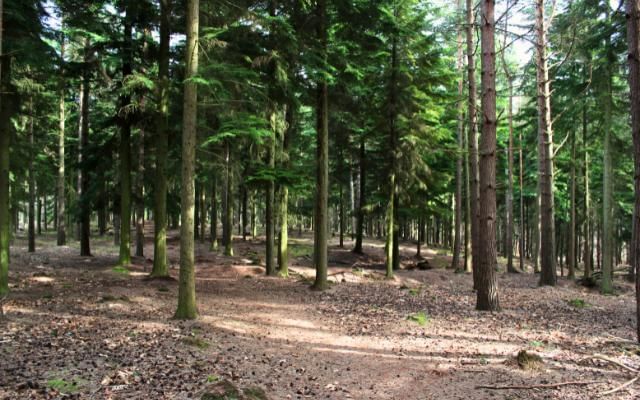 How Big Is Swinley Forest?
Swinley Forest covers a huge amount of land, 2,600 acres to be more precise
Swinley Forest Walks
With varying climbs, terrain, and natural sights to see, the huge number of walks in Swinley Forest offer something for every level of walker.
The estate's design, with many circular paths, is perfect for both leisurely strolls and more challenging hikes. This also means that many of the walks begin and end in the same place, and should you need to cut your walk short at any point, a path leading back to the carpark is never hard to find.
Here are some must mentions when it comes to walks around Swinley Forest:
The Lookout Loop - Beginning and ending just around the corner from the Swinley Forest car park at the Look Out Centre, this easy walk offers the whole family the chance to see the best of what Swinley Forest has to offer in less than an hour. But with a 100ft elevation you'll definitely still feel like you've earned your lunch.
Rapley Lake and Waterfall - This looping path that prioritises accessible footpaths and a slight elevation of 50ft, is a great choice for novice walkers looking to challenge themselves, and intermediate walkers who want to maintain their routine. With some beautiful waterways along the 3 mile loop there's plenty to see here too.
Mill Pond to Upper Star - Finally, for the more seasoned walkers this trail offers a great variety of terrains, and with a 225ft elevation it's more than hilly. After parking at the Swinley Bike Hub head to the Mill Pond to start the 3 hour long loop.
Look Out Discovery Centre
The Look Out in the heart of Swinley Forest is much more than a visitor's centre. The Look Out is packed full of activities for intrepid young adventurers, and inquisitive young minds.
The Discovery Centre in particular boasts 2 floors of educational and interactive exhibits at the science exhibition, covering a range of topics, and offering a chance to get up close with some creepy crawlies in the reptiles and insect enclosure.
The Look Out Centre at Swinley Forest is split into 'zones' that correspond to what children may be learning in their current school year, helping to supplement education with having fun.
The Look Out Discovery Centre and science exhibition at Swinley forest is open from Monday to Friday during term time, from 9.30am to 3pm. Buying tickets on the Look Out Centre's online site is recommended, but there are tickets available upon entry too. A standard adult ticket is £8.40, while children (ages 4-16), students, those with a disability, and over 65s can enter for £6.15. Carers and under 4s can visit the Look Out Discovery Centre for free.
Go Ape Bracknell at Swinley Forest
More information on Go Ape Bracknell can be found on this page.
Go Ape Bracknell at Swinley Forest offers five exciting adventures: Treetop Challenge, Treetop Adventure, Treetop Adventure Plus, Forest Segway, and Axe Throwing.
The Treetop Challenge provides a thrilling 2-3 hour course with tree-to-tree obstacles, ensuring an adrenaline-pumping experience.
Children can enjoy the Treetop Adventure course, while older kids can push their limits with the Treetop Adventure Plus extension. If you prefer activities on the forest floor, you can try Forest Segway or axe throwing, both offering a unique and unforgettable hour in the forest.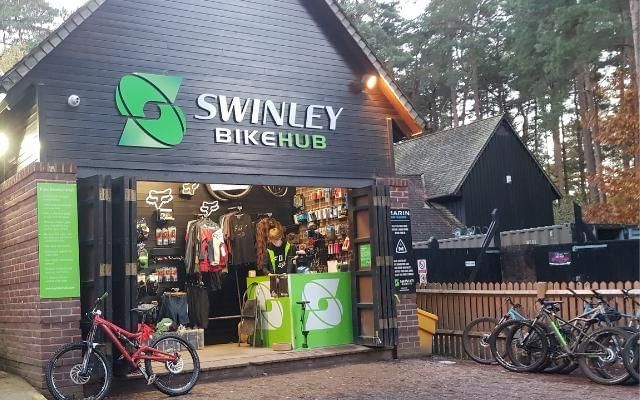 Swinley Forest Bike Trails & Swinley Bike Hub
There are 24km of bike trails that snake through the 2500 acres of land at Swinley Forest.
Of course you can bring your own bikes, but it's more than possible to rent bicycles at Swinley Forest should you need to.
At the head of the cycle trails is Swinley Bike Club, which has become an incredibly popular option for those wishing to cover some serious ground in the forest.
There are a range of bikes available to rent, and of course, children's bikes are available too. Make sure to book online in advance, as the bikes do disappear quickly especially in the summer months.
The bike trails at Swinley Forest are suitable for riding in all weather thanks to their being purpose built from quarried stone.

They are split into the green, blue, and red routes that offer a handy guide for the types of riders they are best suited to:
The green route is perfect for families with little ones, and beginners who want to glide through the beautiful nature here.
The blue route and its off road sections are perfect for cyclists keeping their fitness up, or friends looking for a rewarding day out.
The red route is the most challenging and is suited to proficient mountain bikers looking to get their adrenaline pumping.
Swinley Forest Golf
On weekdays the Swinley Forest Golf Club opens its doors to groups looking to take advantage of the greens. With a prior booking you can experience a full day of golfing, complete with a hearty breakfast in the bar to get your energy up, a day of swinging on the immaculate 17th century full 18 hole course surrounded by peaceful countryside, and a delicious carvery in the upstairs dining room that overlooks the course.
Don your finest golfing attire and test your skills on challenging but rewarding rolling greens and slender freeways. With 2 par 5s, 11 par 4s and 5 par 3s, the course is perfect for those looking to test themselves, or to show off their skills.
Swinley Forest Golf Club is located at the southern side of the forest, at the end of Boden's Ride, with the postcode SL5 9LE. The closest train stations are Ascot (1.5 m) and Sunningdale (3m). Don't forget to make a prior booking with the number of people in attendance by calling 01344 620197, or e-mailing the Swinley Forest Golf Club at office@swinleyfgc.co.uk.
Swinley Forest Maps
To view loads of different route maps for Swinley Forest why not check out the amazing resource available over at ALL TRAILS where the users have created many different maps of interest for hiking and cycling.
For Google location and map click here.
Swinley Forest Parking
The car park at Swinley Forest is open daily for all visitors, with 300 standard spaces, and 4 spaces for blue badge holders. However there are seasonal opening times so be sure to check what day you are visiting so as not to arrive too late.
In winter (1st October - 31st March) the car park is open from 7am to 6pm, and in Summer (1st April - 30th September) the car park is open from 7am and stays open until 8.30pm so you can take advantage of the sunshine.
The price for parking is split into two times, those who'd like to stay at Swinley Forest for less than 4 hours, for which the price is £3.10, or those who'd like to stay for more than 4 hours for which the price is £6.20 for the whole day.
The easiest way to pay is using credit/debit card or contactless payment, but you can pay by cash as long as you only use coins - notes are not accepted at the pay and display machines. Alternatively you can use the paybyphone app, if you enter the Look Out car park's number - 804048.
Swinley Forest | Berkshire's Natural World
Well, there you have it, all the info you could possibly need to enjoy a day out in Swinley Forest.
The forest offers something for absolutley everyone and is an absolute natural wonder here in Berkshire. Perfect for families, perfect for solo travellers, and certinyl perfect for all lovers of the natural world.
Why not combine your visit to Swinley Forest with an overnight stay at Easthampstead Park Hotel situated right between Brackenll and Wokingham which in itself, surrounded by 80 acres of wonderful gardens and woodlands, is a nutural wonder in Berkshire as well.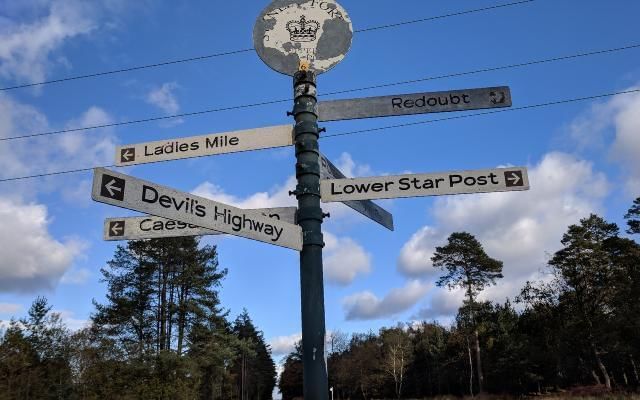 Swinley Forest FAQs
Q: Are Dogs Allowed in Swinley Forest?
A: Yes, dogs are welcome in Swinley Forest. It's a dog-friendly location, and you can bring your furry friends along for a memorable day out. However, please remember to keep your dogs on a leash and clean up after them to preserve the natural beauty of the forest and ensure a safe and pleasant environment for all visitors, both human and canine.
Q: What Activities Can I Do at Swinley Forest in Berkshire?
A: Swinley Forest offers a diverse range of activities for visitors to enjoy. You can explore picturesque walking and hiking trails amidst the beautiful woodland, perfect for nature lovers and families. For the more adventurous, the forest boasts an extensive network of mountain biking trails catering to all skill levels. Additionally, you can experience the thrill of Go Ape, an exciting treetop adventure course that includes zip lines, swings, and obstacles high up in the forest canopy. Swinley Forest truly offers something for everyone seeking outdoor fun and adventure.
Q: Can I Have a Picnic at Swinley Forest in Berkshire?
A: Absolutely! Swinley Forest is an excellent spot for a picnic amidst the serene surroundings. There are designated picnic areas scattered throughout the forest, offering the perfect opportunity to relax, enjoy a meal with family and friends, and bask in the natural beauty of the area. Remember to dispose of your litter responsibly and leave no trace to help maintain the forest's cleanliness and preserve its charm for future visitors.
Q: Is Swinley Forest Accessible for People With Disabilities?
A: Swinley Forest strives to be inclusive and accessible to all visitors. While the terrain in some areas may be uneven, efforts have been made to provide accessible pathways and facilities for people with disabilities. The forest's main entrance and certain trails are wheelchair-friendly, ensuring that everyone can enjoy the beauty of the woodland. Additionally, Go Ape offers accessible options for those with mobility challenges, allowing them to participate in the treetop adventure. If you have specific accessibility requirements, it's advisable to contact the forest management in advance to ensure a smooth and enjoyable visit.